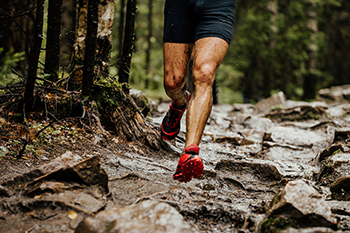 Running on trails requires many precautions that are not needed for other types of exercise or sport. Among the most important considerations is finding the proper footwear. Here are some tips from experts for selecting trail running shoes that can enhance your safety and increase your enjoyment. This type of shoe falls into three categories, including light trails, rugged trails, and off trails. Light trail shoes are made of fairly stiff materials that offer some protection from rocks, but serve well on more groomed trails. Rugged trail shoes are sturdier and have tougher soles that may help to prevent slipping, while providing more stability against foot rotation. They also have thicker exteriors to ward off thorns and brush. Off trail shoes are the most rugged, providing extra protection against rough terrain. They hold up well in bogs, streams and other slippery spots. As with all running footwear, trail running shoes must fit properly, while taking into account the socks that you will wear. For more information on what type of shoes to purchase for trail running, it is suggested that you consult a podiatrist.
Exercising your feet regularly with the proper foot wear is a great way to prevent injuries. If you have any concerns about your feet, contact Afsha Naimat-Shahzad, DPM of Leander Foot & Ankle. Our doctor will treat your foot and ankle needs.
How to Prevent Running Injuries
Many common running injuries are caused by overuse and overtraining. When the back of the kneecap starts wearing out and starts causing pain in your knee, this is commonly referred to as runner's knee. Runner's knee is a decrease in strength in your quadriceps and can occur if you're not wearing properly fitted or supporting shoes. To prevent runner's knee, focusing on hip strengthening is a good idea, as well as strengthening your quads to keep the kneecaps aligned.
What Are Some Causes of Running Injuries?
- One cause of a common running injury is called iliotibial band syndrome.
- Plantar fasciitis is also another common injury.
- Stress fractures can occur from overtraining, lack of calcium, or even your running style.

Best Ways to Prevent Running Injuries
- Wear footwear that fits properly and suits your running needs.
- Running shoes are the only protective gear that runners have to safeguard them from injury.
- Make a training schedule. Adding strengthening exercises as well as regular stretching can help keep you strong and limber and can lessen the possibility of injuries.
- Stretching keeps muscles limber; this will help you gain better flexibility.
If you have any questions please feel free to contact our office located in Leander, TX . We offer the newest diagnostic and treatment technologies for all your foot and ankle needs.
Read more about How to Prevent Running Injuries